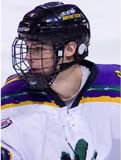 Kevin Gravel (SC)
is my second rated 2010 draft eligible defenseman. Kevin is a big kid at 6'4"/175, and knows how to use his size well. If he gets a hit lined up, watch out. The D-man from Kingsford, Missouri has a scholarship lined up with St. Cloud University. Kevin's size alone makes him a great prospect for the NHL draft but his defensive ability certainly helps his case. He can shut down odd-man rushes by himself by stepping up and taking the body which is why he's so high on my list. Kevin is a great defensive player that with his size could jump right into the pros.
The thing that brings Gravel's value down is his lack of offensive production. With the
Marquette Rangers of the NAHL last year
, Kevin had 14 points in 58 games. He has lost some of that offensive production in his transition and has only 4 points through 38 games this season. If he can turn it on offensively and get some more points before the end of the season, he can increase his draft value by a full round at least.
As it stands right now, I see Gravel as a late second rounder or early third round pick. But like I said, if he can start producing good offensive numbers, he can help himself quite a bit. After his four years at St. Cloud, if he gets enough expierence, he could jump right onto an NHL roster and play AHL if he needs more seasoning or just play NHL hockey with his great size. Either way, I see Gravel being a NHL player someday.