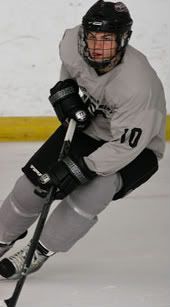 On to my next installment about 2011 eligible USHLers,
Scott Mayfield (YNG)
, is currently the best US born defenseman in the 2011 pool in my opinion. Mayfield comes into the USHL as a 17 year old rookie this year and has been proving critics wrong and making scouts drool all year long. I mean what's not to like about the D-man from St. Louis, Missouri? Mayfield stands at 6'4" and 175 pounds, which is the biggest reason he's getting all the recognition he is. He's one of the very few bright spots from Youngstown, which is currently poised to finish dead last in their first year in the league.
Mayfield is incredibly talented at defense and really knows how to use his huge frame with crushing hits and he can knock people off the puck regularly. Mayfield's defensive instincts may be his best asset. He can switch from his offensive mindset to his defensive almost instantly, falling back before any forwards can beat him outside. Mayfield really likes to throw his body around more than using his stick to poke check the puck from opposing forwards.
Mayfield also has a solid offensive game which is why he could be that first US defenseman drafted in 2011. He has 16 points in 54 games this season which is third for defensemen on the Phantoms team. Out of those 16 points, 5 are on the powerplay, and 3 of the 16 came when the Phantoms were short-handed. Mayfield really uses his tall frame well as he has a rocket shot that is highly accurate. If you're screened as a goalie, and Scott Mayfield winds up for a shot, you're probably going to get scored on. The majority of Mayfield's 8 assists came off of rebounds he sets up for his teammates.
Mayfield still has another year to develop before being draft eligible and he needs to take full advantage of that time. It would not hurt Mayfield to bulk up and gain strength. If he can get his weight up around 200 pounds by gaining muscle mass, there's no doubt in my mind that he will be the first US born defenseman drafted in 2011.
Please leave comments, I would love to hear them!