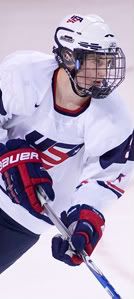 I'm making another exception to my "No USNTDP Players" rule to write about an extremely talented defenseman,
Derek Forbort
. The D-man from Duluth, Minnesota has been in the USA Hockey Program for two years now and has seen his NHL stock rise significantly in that time. Forbort joined the USA squad in 2008 as a 17 year old, leaving Duluth and his high school team, the Duluth East Hounds to take one of the best opportunites a junior hockey player can get: going to Ann Arbor and playing with the USNTDP squad. He is on the U-18 team, and he has really shone.
This season, Forbort has made 24 appearances in the USHL and has showcased his skillset. First, I'll start with his offensive ability. Forbort moves the puck very well and that has earned him a spot on the U-18's powerplay squad. Forbort has taken full advantage of his chance, gaining 6 points on the PP from the point this season. He has a rocket slapshot which either finds the twine, hits the goalie's pads so fast that it bounces out for a rebound before the goalie can even react or, on rare occasion, misses the net completely.
Now on to Forbort's bread and butter, his defensive skills. Forbort has incredible balance skating backwards, and also has the unique ability to anticipate a shot or pass on an odd-man rush. Once the opposing team gets set up in the zone, he can get down and block shots, and get into the passing lanes with his poke check to break up plays single-handedly. On the penalty kill, Forbort can do multiple things for his team. He can be aggresive and get the puck to clear to help his team kill of the penalty. Again, on the penalty kill, he almost never misses an opportunity to block a shot and he's not afraid to get dirty and clear out the front of the net.
These defensive skills, plus his offensive skills, combined with his size (6'4"/195), make Derek Forbort a very intriguing NHL prospect. Forbort is currently commited to play at the University of North Dakota next season. But, it's not a sure thing that he'll play college hockey. Forbort is widely regarded as a top-15 pick for this June's NHL Draft. So, in all likelihood, which ever team drafts Forbort will invite him to join in their rookie camp and he could end up being on a NHL or AHL roster next season. Watch for Derek to make an NHL roster sooner rather than later.
Forbort's lifetime stats below are provided by HockeyDB.com. Please leave a comment if you have
anything
to say, or if you want to leave feedback on any of my writings, please comment below, I would love to read them!