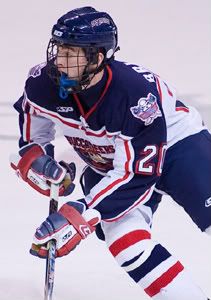 So I haven't written an article in awhile, but I'm back. I previously wrote an article on
Connor Brickley (DM)
, but it was very short and not very insightful so I thought I'd write another one that is hopefully better than the last. Brickley is a great talent who appears to be the second USHL player that will be drafted this summer in the NHL Draft. The forward from Everett, Massachusetts has good size and that makes him very appealing to scouts looking on his game.
Offensively, Brickley has very good speed that he can use to burn defenders to the outside and create plays all by himself. Brickley makes goals by himself with his great shot. He releases his shot so quick that it's rarely blocked, and on that same note, he does have better than average shot selection which makes him an even bigger offensive threat. Playing alongside
T.J. Tynan
has given Brickley a chance to really break out. Brickley compiled 43 points in 52 games this year.
Brickley is also very talented on defense. Brickley is a very good back-checker and is usually the first forward back into the defensive zone ready to break up offensive plays single-handedly. This guy has absolutely no quit in him. He gives his all on every play you can really tell.
Brickley will be the second player drafted from the USHL this summer. Brickley will attend Vermont begining in 2011, which means he will probably stay with Des Moines another year to develop before college. This guy is definitely one to keep your eye on.
Please leave comments, I would love to hear them!