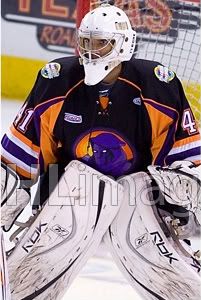 Jordan Tibbett (Youngstown)
is set up to have a breakout year in the USHL this season. The two-year USHL veteran has had two below satisfactory seasons, becoming one of the rare journeymen of the USHL, traveling from
Omaha
to
Des Moines
in 2006-07, before being sent down to the
Mahoning Valley Phantoms of the NAHL
in 2007-08, and last season, Tibbett earned a spot with the Youngstown Phantoms where he started 33 games. The goaltender from Indianapolis, Indiana will be an overager in the USHL this season, so time is running out for Tibbett to pick up a college scholarship offer. If Tibbett can produce some good stats this year, the chance of him being able to lock up a collegiate future will skyrocket. It's make or break time for Jordan Tibbett.
Tibbett's abilities have not necessarily reflected in his stats from the past few years. Tibbett has a USHL career GAA of 3.85 in 55 games played, which really aren't flattering stats. Some of those numbers can be attributed to a bad team, which he played on for the Youngstown Phantoms, who finished second to last in the USHL last season. Tibbett has flaws in his game, but if he can grow and improve his skills, he can play good enough to garner a scholarship and earn another four years of hockey. Tibbett needs to improve on his angles to be successful. He gets beat too often from the boards and by one-timers because he is caught out of position by passes. Where Tibbett excels however, is when the puck gets down low, right in front of the crease. Tibbett can control rebounds with the best of them. If Tibbett can stop the goals allowed from weird angles, he could be slated for a breakout year in the USHL.
If Tibbett can improve and grow in some areas of his game, he could very well pick up a college offer in his last year of USHL eligibility.
Photo from RJ Meyer.
Please leave comments, I would love to hear them!
Email me:
USHLPB@live.com
Follow me on Twitter:
@USHLPB