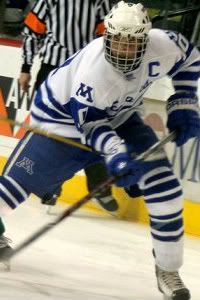 Justin Holl (Omaha)
has little USHL experience, but he really showed what he can do in the 19 games he played with the Lancers last season. Holl was drafted in the second round of the NHL draft by the Stanley Cup Champion Chicago Blackhawks, which should say enough about Holl's skills as a high school hockey player. Holl played all season in Minnesota High School Hockey with the Minnetonka Skippers, and was a finalist for the Minnesota "Mr. Hockey" Title, an award given to the best player in Minnesota High School Hockey. Holl has shown that he can be a leader, being the captain for the Skippers last season. After he was done with his season, where his Skippers finished second in the state tournament, Holl joined the Omaha Lancers for eleven regular season games, and then he came with the Lancers into the USHL playoffs for eight games.
Holl used his time with the Lancers to prove why he was so highly scouted in the NHL ranks and taken in the second round. Holl is more of a defensive defenseman, which he showed in his time with the Lancers, always playing with a chip on his shoulder, and being very physical for a player that just made the jump from high school hockey to juniors. But he's not just a one trick pony. Holl showed his offensive potential with Minnetonka, scoring 20 goals and picking up 17 assists for a total of 37 points in the 31 games he played for the Skippers. When he made the jump to the USHL, Holl's numbers obviously dropped, with him picking up 4 points in 11 regular season games played and 2 points in the 8 games he played for the Lancers in the USHL playoffs. Although Holl has shown flashes of offensive prowess, the main part of his game is the physical aspect. Holl rarely gets beat to the outside and when he does, he can easily get back and take away the passing lanes so the puck can't be passed through the slot. These defensive attributes make him very valuable to both the Blackhawks and Lancers.
Holl will be headed to the University of Minnesota for the 2011-12 season, and then will presumably head for professional hockey after his playing career at Minnesota is over. Until then, Holl will be frustrating opposing coaches and forwards in the USHL this season.
Please leave comments, I would love to hear them!
Email me:
USHLPB@live.com
Follow me on Twitter:
@USHLPB