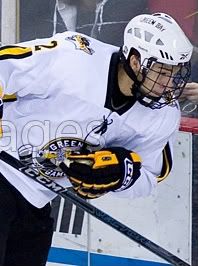 Aaron Harstad (GB)
was 8th on my latest
Top 10 2010 NHL Draft Eligible List
. I believe I may have had him a little lower then he should be, but I'm going to try and correct some of my errors in my final list which will debut sometime in late May. The battle for second-best defenseman from the USHL is in full swing between Harstad,
Kevin Lind (CHI)
,
Eamonn McDermott (FGO)
, and
Nick Mattson (IND)
. With Fargo, Indiana, and Green Bay still active in the USHL playoffs, it should be fun to watch who comes out on top of that battle.
Now on to Harstad, who has the size to set him apart from the pack. Harstad is 6'2"/183. Harstad has a more defensive-based game than offensive. He plays the body well and almost always finishes his checks. In my opinion, he lacks in the area of blocking shots and passing lanes. Harstad shone offensively in Wisconsin High School hockey, averaging two points a game. In the move from high school to the USHL, the competition has obviously gotten better, and in his first full season in the USHL, Harstad only had 8 points in 47 games. The speed of the game at this level was probably the biggest reason for the drop-off in offensive numbers, as it is with most players in their first year. That said, Harstad has good shot from the point and he skates well. He has the potential to develop into a balanced defenseman.
Harstad is committed to play at Colorado College next year, along with
Jaden Schwartz (TC)
,
Eamonn McDermott (FGO)
,
Dakota Eveland (OMA)
,
Alex Krushelnyski (SC)
, and
Scott Wamsganz (WAT)
. I expect Harstad to go on and play there next year. Expect Harstad to get some looks in the NHL Draft around the 4th or 5th round. We definitely have a future professional on our hands here.
Credit on the Harstad photo goes to R.J. Meyer.
Please leave comments, I would love to hear them!