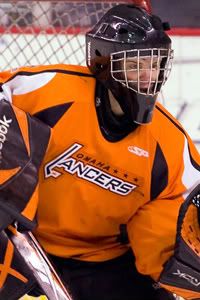 Jeff Teglia (OMA)
like
Steve Summerhays
, has his team in the playoffs for the second straight year. Teglia recently commited to the University of Massachusetts and it took longer than a lot of people thought for him to commit. The goalie out of Bloomingdale, Illinois for the second year has great stats that make him stand out from the pack. Teglia had a 2.27 GAA and .921 SV% in 45 appearances. On Wednesday, in his first USHL playoff start, he led the Lancers to a 7-1 win.
Teglia had a great year and he's really showed up on the radar with his stats this year. I got to see Teglia play quite a few times this year. Every time I saw him he was extremely solid, staying square to the shooter and anticipating one-timers, sliding across the crease to stop them before the shot can get to the net. Teglia's glove is definitely his biggest strength which common among junior goalies. Teglia also gets into the butterfly faster than most, if not all, of the goalies in the USHL.
Now Teglia does have a few things going against him. For one, just like Summerhays, Teglia played behind a good team this year. This shows that he can be successful behind a good team, but he may not be able to win games by himself. That said, Teglia is very capable of keeping his team in the game. Also, unlike the other USHL goalie top prospects, Teglia isn't super tall. This also takes away a little from his value. Teglia is 6'0", which is about average.
Teglia has a chance of getting drafted this summer, but it's not much of a chance. I think if he contunies on at his current level of play at UMass next year, he definitely has a shot at being signed by a pro team and going on to play professional hockey someday.