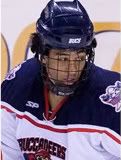 Yasin Cisse (DM)
is someone who was missing from my
Top 10 USHL players eligible for the 2010 NHL Draft.
It was not my intention to leave him off of my list, but I guess I just forgot about him because he only got 18 games in this season before enduring a season ending injury. Either way, it was one of a few mistakes on that list. I'll be making a final ranking of the players before the NHL Draft, and I'll be trying to write reports on the players that will be on that list, including Cisse.
The forward from Westmount, Quebec has been getting quite a bit of NHL interest since last season. It's easy to see why he would get that attention even if you haven't watched him play. First off, he's got the size that has NHL scouts drooling. Cisse is 6'3" and 208 pounds which fits into the prototypical NHL power forward build. That build is a rare breed in today's NHL. Secondly, the stats he had before Cisse had the misfortune of suffering a season-ending injury. In the 18 games he got to play, Cisse had 13 goals and 6 assists. That's 19 points in 18 games. In fact, in those 18 games, Cisse had only 6 games without a point.
Cisse has a great shot which is very quick. He has a quick release on his shot which was what helped him get those 13 goals in the 18 games. Along with Cisse's offensive skills, he also has some pretty solid defensive skills. Cisse is a
very
good back-checker. He gets down and blocks passes in the lanes, and also blocks the occasional shot. Skating, Cisse has great speed for a player of his size. The one thing that Cisse needs to work on for sure is to make sure he uses that size he has to finish his checks. If he can start hitting on a regular basis, he can only help himself.
Cisse has a good chance of getting drafted this summer. He'll have to work on his skating and finishing his checks in college. Cisse commited to play at Boston University, where he will play next season. Yasin Cisse is definitely someone to keep your eye on.