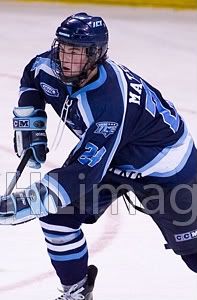 Nick Mattson (IND)
is one of the USHL defensemen in the running for 2nd place in their position. The fight for second has come down to Mattson,
Aaron Harstad (GB)
(
Report
),
Eamonn McDermott (FGO)
(
Report
), and
Kevin Lind (CHI)
(
Report
). Mattson is with Indiana in the playoffs playing Cedar Rapids tonight. Mattson has been a key piece in the Ice's series with the Roughriders. The defenseman from Chanhassen, Minnesota has 3 points in 4 games thus far in the series. Add those three onto the 19 he had during the regular season, and we've got a two-way defenseman on our hands.
We'll start with Mattson's offensive ability. He was highly regarded coming into the USHL this year as a pure offensive-minded defensemen. Mattson has a good shot from the point and makes good passes. He could work on his skating a little more, but that will come in college and whatever level he plays following college. He has a quick release on his shot and the shot itself is quick. It lacks accuracy and that has led to some unimpressive numbers in the USHL this year. Mattson only had 5 goals this season with 19 points. While the goals have not come, Mattson still has a good shot and if you look away from the stat sheet to watch him play, you can see that. His passes are good and crisp, almost always tape-to-tape, Mattson compiled 14 assists this year. He has also lived up to his offensive hype in one aspect of his game: the powerplay. 3 of Mattson's 5 goals came on the PP, adding 6 assists to make 9 points on the powerplay.
Defensively, Mattson has improved incredibly since coming into the USHL this year. He blocks shots and gets into passing lanes. When you look at his stats, it looks like the stat keepers are putting down the wrong numbers for one stat category. Mattson only had 14 penalty minutes in 51 games this season. That's virtually unheard of for a defenseman to have that little of PIMs in a season. It really speaks to the discipline of Mattson's game that he isn't constantly putting his team down a man like some defensemen in the USHL and all around the world of hockey.
Mattson's defensive improvements have helped him greatly help his chances of getting drafted in late June. Mattson will have to improve during college if he wants to play pro hockey and the University of North Dakota, where Mattson committed, will be a good place for him to develop his skills. I'm very excited to see what the future will bring for Mattson.
Credit for the photo goes to R.J. Meyer.
Please leave comments, I would love to hear them!