I wrote an article on Morris here.
Morris is the goalie most likely to be drafted out of the USHL. The 6'3"/195 goalie is easily distinguishable just because of size, but what really sets him apart is how much skill he has. In 38 games, Morris had a 2.57 GAA and a .913 save percentage. Morris' real strength is that he doesn't let his rebounds bounce into the slot. He has the ability to kick them into the corners and he does quite a bit. Morris is the most developed USHL goaltender but he still has the potential to get better. I think Morris could go as early as the 4th round but could drop as far as the 6th, it's just tough to judge.
In the Morris article, I mentioned Yanakeff.
Since being traded to Waterloo, Yanakeff has a 3.41 GAA and a .872 SV%. Not exactly star numbers right? Even though the numbers aren't there, I still like Yanakeff to be drafted in the NHL Draft. His size certainly helps his case. Yanakeff is 6'2", 185 pounds. Yanakeff has the intangibles to be a NHL goalie, his skills just need to be developed in college, he committed to play at Michigan State. Expect Yanakeff to be drafted anywhere from the 6th round to 7th, heck, he might not even get drafted. It's so hard to predict goalies and where they'll end up in the draft.
My profile of Witt can be found here.
Witt has a very strong blocker side which makes him worthy of all the looks he's getting. He has great one-on-one ability as well, being one of the few goalies in the USHL who is successful in shootouts and penalty shots. Witt has an impressive record of 24-12-7 and 2.66 GAA. Witt also leads the USHL in shutouts with 6. He's led the Stampede to playoff birth this yeat and has turned many heads this season with his great play. Now, I'm not sure when or even if Witt will be drafted this summer. If he is drafted it will be no earlier than the 7th round.
I wrote an article on Coreau in February
. Coreau had
very
underwhelming stats this year. His record was 7-22-4, a GAA of 3.62, and a .882 SV%. But don't let his stats fool you, Coreau is a solid goalie and solid prospect. Coreau played on the league worst Lincoln Stars (16-36-8) who gave him very little offensive support. The Stars had a league worst 143 goals-for this year. Coreau is committed to play at Northern Michigan University next year. Coreau more than likely won't be drafted this summer, but after his four years in college hockey, he could very well be ready to sign a pro contract.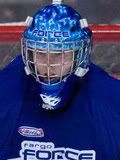 I have not gotten around to writing an article on Campbell yet. Campbell started out the season playing for the Fargo Force where he played 12 games with a 3.19 GAA and .846 SV%, which aren't great numbers, probably prompting his trade to Cedar Rapids on 12/10/09. But when Campbell got to Cedar Rapids, he turned it on. In 17 games for the Roughriders, he was 10-4-1 with an amazing 1.90 GAA and .933 SV%. Campbell is committed to play at the University of New Hampshire who made the NCAA Hockey Tournament this year. Campbell will not be drafted in the NHL this year, but he has the potential to be a professional goaltender someday.
Please leave a comment, I would love to hear them! Also, I broke down and got a Twitter account, so go over to my Twitter page and follow me.